Das Cannondale Synapse Hi-Mod war in diesem Jahr, zusammen mit dem Bianchi Infinito CV, eines von zwei Rennrädern die eindeutig dem Endurance-Segment zuzuordnen sind. Also Räder für komfortablere Fahrten mit etwas längerem Steuerrohr, aufrechterer Sitzposition und großem Radstand – perfekt für Marathons.

Auf Cannondales Presse-Show konnten wir uns das Synapse nun genauer anschauen und die Details der neuen Alu-Modelle klären.
Außerdem warfen wir einen Blick auf die fünf neuen Carbon-Modelle der Synapse-Serie, die mit 2.199 Euro im Falle des Synapse Carbon 5 mit Shimano 105er Gruppe starten. Zuletzt betrachten wir noch ein Alu-Modell mit Scheibenbremse und Shimano Ultegra.
All-new Synapse now available – tech details
Five models in 2014 carbon Synapse range
Aluminium Synapse revamped – disc brake model introduced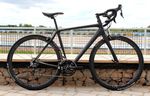 Das neue Cannondale Synapse
Das komplett neu designte Synapse ist das Schlüsselmodell von Cannondales Rennrad-Produktpalette 2014. Kein Wunder, bietet es als Alu-Renner mit gemäßigter Geometrie und einem gesunden Preis-Leistungsverhältnis doch gerade Einsteigern und preisbewussten Käufern eine ideale Basis für ihren Sport. Das erste Synapse war 2006 auch gleichzeitig das erste Carbon-Rad von Cannondale für komfortbewusste Fahrer und wurde seitdem auch nur gering und eher im Bereich von kleineren Faceliftings bedacht. Es wurde Zeit das Synapse neu aufzulegen und  generell zu überdenken.
Das Resultat, sagt Cannondale, ist ein Rennrad mit etwas ausgeprägterer Renngeometrie als bisher. Peter Sagans Rennresultate bei den Frühjahrsklassikern kann man als Beleg dafür heranziehen. Der Slovake gewann Gent-Wevelgem und wurde in E3 Harelbeke gleichermaßen Zweiter wie auch bei der Flandernrundfahrt. Das alles auf dem neuen Synapse, welches Sagan schon zur Verfügung stand.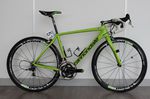 "Die Langstrecken-Serie hat zwischen 2006 und 2013 eine lange Durststrecke hinter sich gebracht.", sagte uns Cannondales Marketing Direktor Jonathan Geran. "Die Kunden wollen einerseits eine komfortable und aufrechte Position für lange Jedermannrennen, auf der anderen Seite aber auch ein schnelles, leichtes und komfortables Rad mit guter Balance unter all diesen Eigenschaften."
Die Frühjahrsklassiker der Profis sind in den letzten Jahren immer mehr zu einem Schaufenster der Fahrradindustrie geworden. So sind Trek Domane, Bianchi Infinito CV und BMC GranFondo 01 Rennräder der letzten zwei Jahre, die von WorldTour-Fahrern während der schwierigen Klassiker gefahren wurden und den Weg für das Komfortsegment geebnet haben. Wer mit einem der Top-Endurance Bikes Paris-Roubaix gewinnen kann, hat wohl auf das ri htige Rad gesetzt – so lautet die Botschaft.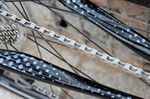 Das neue Synapse ist das Ergebnis eines dreijährigen Entwicklungsprojekts. Dabei flossen sowohl Ideen vom SuperSix Evo ein als auch komplett neue Ansätze entwickelt wurden.
So nutzt das neue Synapse das gleiche ballistische Konstruktionsverfahren wie auch beim SuperSix Evo. Das BallisTec-Verfahren stammt dabei aus der Entwicklung von Panzerungen und nutzt hochfeste Carbonfasern mit hohem Dehnungsfaktor um daraus ein Carbongeflecht höchster Stabilität und Steifigkeit bei minimalem Gewicht zu formen.
First up, the Synapse Hi-Mod borrows the Ballistec carbon construction of the SuperSix Evo, which uses high-strength, high-elongation carbon fibres to create a base structure which Cannondale say is strong, light and stiff. The result is a claimed frame weight of 950g for the high-modulus version, which is very competitive for an 'endurance' frame, where comfort is more important than weight.
Cannondale's SAVE micro-suspension system was introduced with the original Synapse but it's now been updated and is known as SAVE Plus, made up of three key components, all designed to improve compliance.
First, the carbon layup has been designed to increase what Cannondale call 'inter-laminar shear dissipation', which is designed to absorb vibrations before they reach the rider.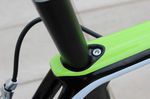 Second, Cannondale have used a series of complex tube profiles, including helixed seatstays, designed to increase the length of the carbon fibres in relation to the stays themselves, and a curved fork with offset dropouts, which is said to compress and flex without compromising stiffness or handling.
Finally, Cannondale have switched to a super-skinny 25.4mm seatpost which in itself offers more compliance than a larger diameter post. The Synapse also features an integrated seatclamp which is not there to improve aerodynamics, but to leave more seatpost exposed, thus increasing the amount of material which is able to flex and absorb vibrations when you hit big bumps in the road while riding in the saddle. It does limit seatpost choice, though Cannondale provide a range of options, as do FSA and Thomson.
"The big things about SAVE Plus technology is that it's not just about comfort, but handling as well," said Geran. "Instead of the wheel chattering down the road, it's designed to roll over those rougher sections, thereby improving handling and performance for the rider while not sapping energy and making the rider more fatigued."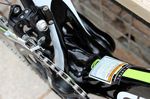 While Cannondale's SAVE Plus technology is perhaps the most important feature of a bike designed for comfort, the Power Pyramid seattube cutout is the most visually striking aspect of the bike.
It's not a feature designed to improve comfort, instead to save weight while allowing Cannondale to user a new, wider bottom bracket called BB30A. Cannondale revolutionised bottom bracket technology when they introduced the BB30 standard in 2000 and BB30A is the latest evolution of that.
'A' stands for asymmetric as BB30A adds 5mm to the non-driveside of the bottom bracket shell (widening it from 68mm to 73mm) to create a more stable platform while maintaining an ideal chain line on both sides. All the internal parts of BB30A are the same, according to Geran, there's just a smaller internal spacer to accommodate that extra 5mm. Power Pyramid allows Cannondale to, in effect, create a wide junction between the seattube and bottom bracket, thereby improving torsional rigidity, while reducing weight.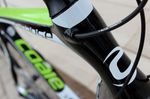 The Synapse is also based around a slightly more relaxed geometry – dubbed S.E.R.G, or Synapse Endurance Road Geometry by Cannondale – with a slightly taller headtube, slightly longer wheelbase and slightly slacker head angle, which Cannondale say results in the right balance between a pure race positioning and upright comfort.
"The new Synapse is lighter than the previous version, about ten per cent stiffer, and somewhere in the region of 30 per cent more compliant," said Geran.
"The team – Cannondale Pro Cycling – weren't the driving force behind this project but they provided valuable feedback throughout the design process.
"This bike can definitely handled being raced at the Tour de France, and it's designed to be raced at your local weekend crit or a road race, but if you're looking at a long charity ride or a Gran Fondo, that's where it will come in to its own.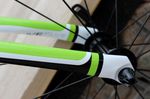 "If you're on a training ride and left is the dirt road, and right is the paved road, and you want to go left, then this bike is designed to handle that, and the fact we have specced 28mm with all bikes is testament to that.
"While some riders may be afraid to get their race bike dirty, this is a bike we want you to get dirty."
Five all-new Synapse models
That brings us on to the five all-new Synapse models introduced for model-year 2014. There are essentially two frame grades as far as the new, carbon fibre Synapse is concerned (the aluminium Synapse remains in the range with a revamped frame, more of which below). The Synapse Hi-Mod, the frame ridden by Peter Sagan et al, uses a higher proportion of high-modulus cabron fibres than the Synapse Carbon, and is more expensive as a result.
Of the two frames, there are three Hi-Mod builds (Shimano Ultegra, £3,299.99; SRAM Red, £4,749.99;  and Shimano Dura-Ace, £6,999.99) and two Carbon builds (Shimano 105, £1,699.99; and Shimano Ultegra, £2,499.99).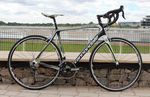 Let's take a closer look at the two models which bookmark the range: the £1,699.99 Synapse Carbon 105 and the £6,999.99 Synapse Hi-Mod Black Inc.
The Synapse Carbon 105 is the entry point to the range and has a smattering of Shimano 105 components (front derailleur, rear derailleur, shifters), with the brakes and cassette coming from the more affordable Tiagra groupset, while the FSA provide the compact 50-34t Gossamer chainset and Shimano the R501 wheels, wrapped in Schwalbe Lugano rubber. The finishing kit (stem, seatpost, handlebar and saddle) all comes from Cannondale's own range.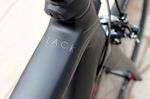 At the other end of the scale, the stealth Synapse Hi-Mod Black Inc is dressed in 11-speed, mechanical Shimano Dura-Ace, with Cannondale's super-light and super-stiff Hollowgram SiSL2 cranks and SpideRing chainrings, again in compact 50-34t guise. Vision, wheel sponsor to the Cannondale Pro Cycling team, provide the Metro 40 carbon clincher hoops, which are in turn shod with Schwalbe Ultremo ZX tyres (this is the only carbon fibre Synapse model to come with 25mm, not 28mm, rubber. FSA SL-K finishing kit, in a new matte black finish, and a Fizik Aliante saddle (as preferred by Peter Sagan) complete a stunning build.
Aluminium Synapse revamped – disc brake model introduced
The all-new Synapse is the headline grabber as far as Cannondale's 2014 road range is concerned, but the aluminium Synapse has also had a significant overhaul and steals some of the features of its more high-tech, and more expensive, sibling.
"The alloy Synapse is heavily influence by the carbon Synapse," said Geran. "It has a similar, but less pronounced, helix shape on the seatstays, a similar shape to the fork,  seatstays which bisect the toptube and a double-flared toptube and downtube to improve the headtube and bottom bracket stiffness.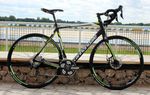 "It took a lot of engineering resource to mimic those complex tube shapes in alloy but we only did it where it was right to apply them. The chainstays don't get get the same articulation because, in an alloy material, it's better for the profile to more defined in order to maintain stiffness."
The aluminium Synapse continues to use BB30, rather than BB30A, but the seattube has been widen at the bottom bracket to improve rigidity, while it tapers significantly as it rises to accommodate the same 25.4mm diameter seatpost as the carbon Synapse. The alloy Synapse also has the same neat internal cable routing, with cables entering at the front of the toptube to ensure they remain straight kink-free.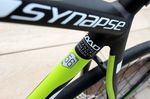 The most exciting models in the five-bike alloy Synapse range are the Synapse Ultegra Disc and the Synapse 105 Disc. Needless to say, both are disc-equipped machines running on largely Shimano Ultegra and Shimano 105 drivetrains, with Cannondale own-brand disc brakes (with a 160mm rotor at the front and 140mm at the rear).
"We're always looking to integrate better technology into our products. Generally it trickles down from the top end, but this was the right consumer to launch disc brakes to," said Geran, who went on to hint a disc-ready version of the carbon Synapse may be in the pipeline for model year 2015.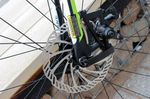 Let's concentrate on 2014 for now, however. The Synapse Ultegra Disc is the top model in the alloy range at £1,399.99, ahead of the Synapse 105 Disc (£1,099.99), Synapse 6 Tiagra (£949.99), Synapse 7 Sora (£749.99) and Synapse 8 Claris (£649.99). All are based around the same frame, with a straight-through 1-1/8″ carbon/alloy fork (in two versions, one disc-specific, and one for conventional rim brakes).
To focus on one model, the Synapse Ultegra Disc takes its front derailleur, rear derailleur, shifters and cassette from Shimano's 2014 11-speed Ultegra group, with a compact FSA Gossamer chainset, Cannondale's MB700T mechanical discs, disc-specific Maddux RD 2.0 wheels, 25mm Schwalbe Lugano tyres and Cannondale finishing kit.
Website: Cannondale
UK distributor: Cycling Sports Group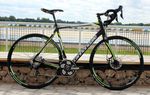 Bildergalerie
25 Bilder